27th Annual Women and the Law Section Retreat, Presented by the Women and the Law Section of the Delaware State Bar Association
March 1, 2019 at 2:45pm

–

3:45pm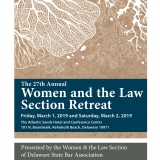 On Friday, March 1, 2019, Partner Mary Dugan will moderate a panel discussion entitled "Lawyers Do It Legally." The panel will discuss interesting criminal and civil cases pending in Delaware's courts.
Ms. Dugan will be joined by panelists Karen Lantz, Esquire, American Civil Liberties Union of Delaware; Christian Douglas Wright, Esquire, Department of Justice; Benjamin Alexander Schwartz, Esquire, Schwartz & Schwartz, Attorneys at Law, P.A.; and Philip Thomas Edwards, Esquire, Murphy & Landon.
For additional information about this panel or the retreat, download the PDF brochure below.
Resources