Events
"How to Balance a Successful (and Stressful) Career with Greater Personal Well-Being," 2019 Women in Litigation Joint CLE Conference sponsored by the ABA Section of Litigation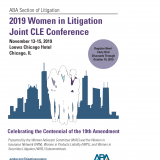 Partner Pilar G. Kraman will be moderating a panel discussion at the upcoming 2019 Women in Litigation Joint CLE Conference sponsored by the ABA Section of Litigation which will be taking place November 13th - 15th in Chicago, IL.
The plenary session entitled "How to Balance a Successful (and Stressful) Career with Greater Personal Well-Being," will provide attendees with information about the latest tools and strategies to manage stress, including how to meditate. Pilar will be joined by speakers Jeffery H. Bunn, The Mindful Law Coaching & Consulting Group LLC; Kara P. Dodson, Volta Talent Strategies LLC, and Amanda R. Lawrence, Buckley LLP.
Pilar also participated in this year's planning committee for the conference. As a representative of the Women Advocate's Committee, Pilar reviewed submissions for all conference sessions and handled many "behind-the-scene" details.
For more information about the 2019 Women in Litigation Joint CLE Conference or to register, click here to download the brochure.