Young Conaway Recognized as a 2024 Best Law Firm in 26 Practice Areas by Best Lawyers
November 6, 2023
–
Press Release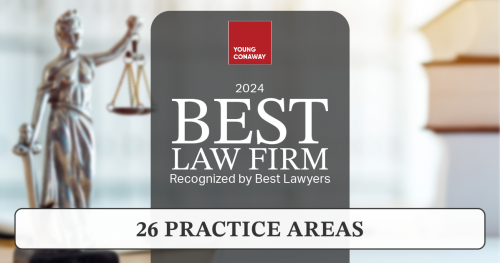 Young Conaway is pleased to announce that the firm has been recognized in the 14th edition of the United States Best Law Firms® rankings. The firm was honored nationally in the Litigation - Mergers and Acquisitions practice area and received 18 Delaware Metropolitan Tier 1 nominations for work in the following practice areas:
Bankruptcy and Creditor Debtor Rights / Insolvency and Reorganization Law
Commercial Litigation
Corporate Compliance Law
Corporate Governance Law
Corporate Law
Employment Law - Management
Insurance Law
Labor Law - Management
Land Use & Zoning Law
Litigation - Environmental
Litigation - Insurance
Litigation - Intellectual Property
Litigation - Labor & Employment
Litigation - Land Use & Zoning
Litigation - Mergers & Acquisitions
Medical Malpractice Law - Plaintiffs
Personal Injury Litigation - Plaintiffs
Real Estate Law
Additional Delaware Metropolitan rankings were received in the practice areas of:
Environmental Law
Workers' Compensation Law - Claimants
Trusts & Estates Law
Tax Law
Litigation - Banking & Finance
Securitization and Structured Finance Law
Bet-the-Company Litigation
About Best Law Firms:
This is the first year that Best Lawyers® has released the Best Law Firm® listings independently on a dedicated website: www.bestlawfirms.com. The 2024 rankings are based on methodology that relies on qualitative and quantitative data on legal skillset, achievements and client successes collected through a submission process managed by Best Lawyers®.