Events
"And Now a Word from the District of Delaware: A Conversation with Chief Judge Stark and Chief Magistrate Judge Thynge," Pilar Kraman Interviewer, 14th Annual Paragraph IV Disputes Sponsored by ACI
October 6, 2020 at 10:25am

–

11:10am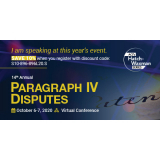 Intellectual Property Litigation Partner Pilar Kraman will be interviewing Chief Judge Stark and Chief Magistrate Judge Thynge during the 14th Annual Paragraph IV Disputes conference. The session "And Now A Word from the District of Delaware," will take place on October 6, 2020, the first day of this virtual two day event.
The Para IV Disputes conference, which started in 2006, is considered the flagship conference for both brand and generic drug company representatives as well as their pharmaceutical practitioners. ACI notes that attendees will be provided with:
Updates and insights on the section 101 situation,
Information on the shifting regulatory landscape and the Trump Administration's efforts to drive down drug prices,
Multiple bills impacting Paragraph IV practice, and
Analyses of the most important decisions rendered during the past year that reflect the ever-evolving law on topics including venue, standing to appeal decisions from the PTAB, reasonable expectation of success, and induced infringement.
To learn more about this virtual conference or to register, download the PDF brochure.
Resources